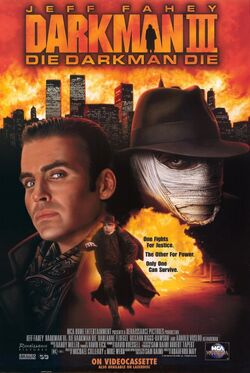 Darkman III: Die, Darkman, Die is the second direct-to-video Darkman sequel, released in 1996, the film stars Arnold Vosloo again taking the role of Darkman and Jeff Fahey as Darkman's new nemesis Peter Rooker.
Jeff Fahey - Peter Rooker
Arnold Vosloo - Peyton Westlake/Darkman
Darlanne Fluegel - Dr. Bridget Thorne
Roxann Dawson - Angela Rooker
Nigel Bennett - Nico
Alicia Panetta - Jenny Rooker
Ronn Sarosiak - Mack
Peter Graham - Joey
Shawn Doyle - Adam
Vieslav Krystyan - Ivan
Chris Adams - Whit
Rick Parker - E.K.
Joel Bissonnette - Mayo
John Novak - Dist. Atty. Ryan Mitchell
Christopher Bondy - Gibson
Von Flores - Johnny Lee
Eric Hollo - Paul Raney
Gino Giacomini - Beast in school play
Lance Paton - Narrator
Suzanne Primeau - Mother
Bob Windsor - Uncle Owen
Rene Beau Dean Huard - Mitchell supporter
Lorne Cossette - Dr. Leonard
Diana Platts - Diane Platts
Joanne Reece - Reporter #2
Walker Boone - Sgt. Troy
Brian Paul - Angry guest
Michelle Collins - Nurse
Denise Baillargeon - Female guest
Die, Darkman, Die was originally intended to be the first sequel to the original Darkman, but when Larry Drake became available to reprise his role of Durant, this entry was moved back until The Return of Durant had been finished and released.